Choosing the right physiotherapy that provides real healing is not straightforward. Even more difficult is finding a treatment that works. We make sure we provide attentive care that you deserve with one-on-one time with physiotherapists (not physiotherapy assistants) who sincerely care about your health and your own personal goals. Our patient-centric atmosphere is optimized with the professional care and the personal touch our clients expect.
We provide a unique style of care with high quality, high-tech and manual hands-on therapy with personalized services for individual client outcomes. We do not believe in a "one size fits all" practice and we design each session to meet the needs of the goals of each client. Our services are usually covered by health insurance so please do check with your agent how you are covered; if you have any questions, please give us a ring.
Physiotherapy and its adjunct services at HelloPhysio dedicates itself to partner with you on your journey to health, guiding and supporting you every step of the way. Our services include sports massage by an avid triathlete, TCM by a super-chill basketball player who works as a researcher with her doctorate in health, craniosacral and lymphatic drainage by an amazing world traveler, Pilates by two super strong competitive gals; and lastly our team Onsite* who provide spinal restoration with manual work. Our therapists are committed to help our clients recover from pain and injury and return to maximum function, living life to its fullest, using a variety of therapy techniques, including state of the art technology to aid with manual work. Our physiotherapists perform a comprehensive assessment of the pain and its root cause. The goal of our approach is to restore balance of joints and muscles using therapeutic exercise to enhance long term outcome.
Our ability to serve you is unique, to treat not just the symptoms but an integrative treatment focused on your needs. We get real honest results when others have not. Many of our clients have come to us after treatment elsewhere without success, whether acute or chronic. Time and time again they have been more than pleased with the results they experience at HelloPhysio. Your goal is also our goal, to live pain-free.
Jenny Huang is the principal physiotherapist at HelloPhysio. She graduated from University of Texas in 1997 with her Masters in Physical therapy with highest distinction. She has been practicing physiotherapy for over two decades and truly loves her job as all her clients can attest to that from their outcomes and their individualized care given. She is an avid recreational runner who has won in Singapore first place in 100km Sundown Ultra Marathon, first place in 50km The North Face Trails, 32 km Marina Run, 21km Great Eastern, 10km Star Wars and she will continue to run to prove that running and exercise only makes us stronger, younger and mentally tougher. She has been living in Singapore for last 17 years with her two teenage children and loving her life. Her passion in physiotherapy stems from her fulfillment of life purpose in helping people while understanding life itself through the eyes of each client.
Meet Founder: Jenny Huang
Senior Physiotherapist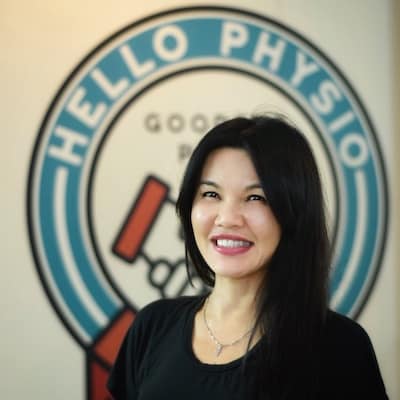 Jenny Huang, the founder of HelloPhysio is an experienced physiotherapist who graduated with magna cum laude in 1997 with her Masters in Physical Therapy from University of Texas Medical Branch (hook 'em horns). She loves learning and teaching and strives to provide the highest standard of patient care and customer service. Prior to conceiving HelloPhysio, she was disheartened by the business-focused practices and felt that patient care should be front and center.
Her vision is to build a practice that raises the bar of patient care, patient experience and patient empowerment. She envisioned a modern facility with a cozy yet professional atmosphere where the environment is therapeutic for clients on top of the actual care.
Jenny is a mom to two awesome teenage kids, runs a ton and loves racing. She has placed first in some notable races such as 2013 Sundown 100km ultramarathon, 2014 Great Eastern half-marathon, 2015 The North Face 50km ultra duo, 2016 Star Wars race winning the Death Star trophy (you can rub the trophy for good luck at HelloPhysio). She is an ambassador of New Balance, Garmin, Jabra, Gatorade, Compressport and EloWater.