Meet Founder: Jenny Huang
Senior Physiotherapist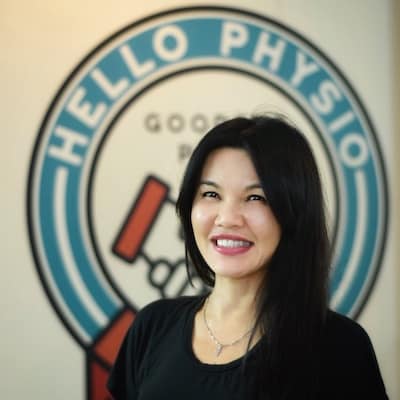 Jenny Huang, the founder of HelloPhysio is an experienced physiotherapist who graduated with magna cum laude in 1997 with her Masters in Physical Therapy from University of Texas Medical Branch (hook 'em horns). She loves learning and teaching and strives to provide the highest standard of patient care and customer service. Prior to conceiving HelloPhysio, she was disheartened by the business-focused practices and felt that patient care should be front and center.
Her vision is to build a practice that raises the bar of patient care, patient experience and patient empowerment. She envisioned a modern facility with a cozy yet professional atmosphere where the environment is therapeutic for clients on top of the actual care.
Jenny is a mom to two awesome teenage kids, runs a ton and loves racing. She has placed first in some notable races such as 2013 Sundown 100km ultramarathon, 2014 Great Eastern half-marathon, 2015 The North Face 50km ultra duo, 2016 Star Wars race winning the Death Star trophy (you can rub the trophy for good luck at HelloPhysio). She is an ambassador of New Balance, Garmin, Jabra, Gatorade, Compressport and EloWater.
Meet Gordon Woon
Senior Physiotherapist
Gordon has always been interested in sports, as well as human movement and performance. A graduate of the University of Wisconsin–Madison's Physical Therapy Program in 1996, Gordon has over 20 years of rewarding practice in the field. Since graduating from the Feldenkrais Method Professional Training Program in 2011, he has been using both the conventional Physiotherapy and Feldenkrais Method approaches with his clients with successful outcomes. Gordon's applies a holistic approach when attending to his clients. He looks for and treats the origins of their problems instead of just focusing on the symptoms. This leads to the permanent resolution of his client's conditions.
Gordon is certified by the Feldenkrais Guild of North America and is licensed to practice Physical Therapy in the States of California and Hawaii. He is also registered with the Allied Health Professions Council of Singapore. Gordon is FMS certified and often uses the SFMA when working with his clients. He has training in Craniosacral Therapy and he is also a MovNat Certified Trainer. He enjoys working with all people, from infants to seniors and everyone in between.
In his spare time, Gordon likes to participate in outdoor movement activities as he believes that movements that engage the natural environment are vital for his health and his sense of wellbeing.
Meet Sariah
Office Administrative Executive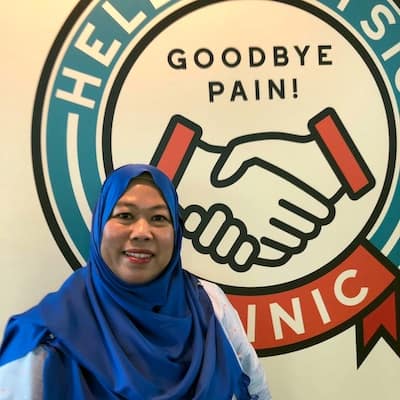 The customer is the most important visitor on our premises. He is not dependent on us. We are dependent on him.
He is not an interruption of our work. He is the purpose of it.
He is not an outsider of our business. He is part of it. We are not doing him a favour by serving him.
He is doing us a favour by giving us the opportunity to do so.
– Mahatma Gandhi
And it is through our front desk super-woman, Sariah, who is able to provide just that when you walk in to our clinic. She approaches office hospitality with a solution-focused urgency and will do her best to assist you. She is the key role to our clinic's day to day operations and she is the heart of HelloPhysio. As a team, we all work together and she's your one-stop-shop for questions and connecting with the rest of the team members.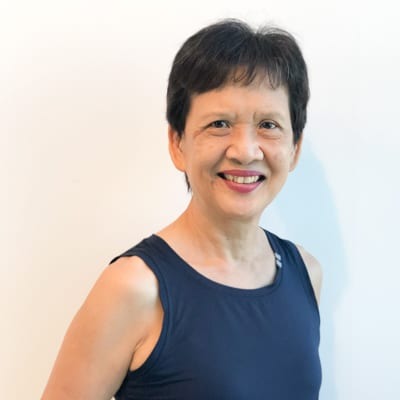 Lymphatic Drainage – Mary Ho
Mary is a heart-centered healer who believes in listening to your needs to help identify the areas that require attention. Using her intuition and tapping into 10 years of combined
Lymphatic Drainage
Therapy, Energy Work and Craniosacral Therapy, no one session is ever the same.
With Mary, you will almost immediately experience a deep sense of the dedication and unconditional love she pours into each session.
She has also received training in Macrobiotics at the prestigious Kushi Institute in Amsterdam and travels to international health forums to conduct workshops and cooking demonstrations.
Mary is also curious in food culture and world cuisine, and grows her own edible plants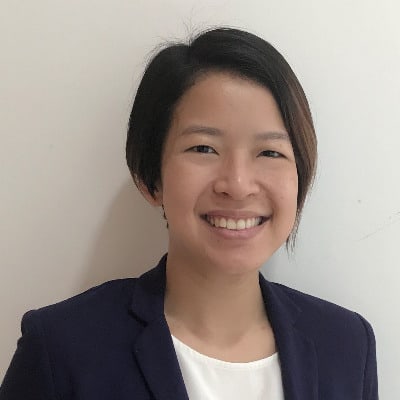 TCM Practitioner – Yi Roe
Yi Roe has 8 years of experience working as a TCM practitioner. She has spent 2 years in Beijing, China to deepen her study and clinical experience and became a Singapore TCMPB registered TCM Practitioner upon her return to Singapore.
Her fluency in both English and Mandarin help her to reach out to a wider population of clients and truly understand their needs.
Her vision as a TCM practitioner is to provide integrated care by working together with Western counterparts, so as to achieve maximum client wellness and recovery. Yi Roe enjoys playing basketball and badminton in her free time.
Pilates Instructor- wany
She has various goals for her clients and her main priority is to get them to be aware of their actions, keep their joints mobile, the muscles strong and have them eat and sleep well to get them to where they want to be. She has helped clients lose weight, get the abs, guns or the buns that they want, get them lifting heavier, run faster, sleep better, restore strength from an injury or delivering their baby, but one goal at a time individually.
Wany says, "Movement is fundamental in our lives. Exercise is optional. How fluid and painless it is depends on our daily practice".